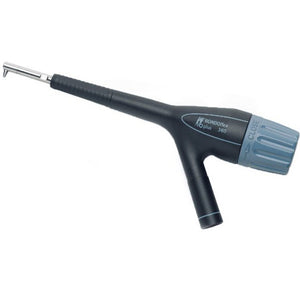 Kavo Rondoflex Plus 360
Regular price £1,149.00 Sale
Kavo Rondoflex Plus 360
Kavo Rondoflex Air Abrasion System
The Air-Abrasion-System with additional water supply and reduced powder contamination. The powerful and gentle method.
Defined powder particles are accelerated to high speed (20 m/sec) in an air stream. When these particles strike the area to be processed, tooth substance is removed accurately through kinetic energy.
KaVo RONDOflex plus -strong. clean. efficient.
KaVo RONDOflex – With additional water supply
Reduced powder contamination
Substantially smaller debris radius
More easily removable corundum particles
More convenient treatment
KaVo RONDOflex plus – Indications
Minimally invasive cavity preparation.
Opening and expansion of fissures – occlusal and buccal.
Removal of deep discolourations in the dental enamel.
Roughening of the adhesive surfaces of crowns, bridges, brackets and pins.
Removal of cement residues from crowns, bridges and brackets.
Results
Surface of the cavity under 500 x magnification. The surface structure is roughened uniformly over the entire cavity.
Includes:
1 x  RONDOflex plus 360 (1.002.2179),-mounted with: Cannula 110°: / 0.6 mm (1.002.6251) Powder container for 50µm (1.003.1236)
1 x Cannula 110°: 0.46 mm (1.002.9176) 1 x Key for fixing the cannula (1.002.6250) 1 x Powder container for 27µm (1.003.1235)  2 x Powder container cover (1.000.2678)
1 x Cleaning drill (0.573.0321) 1x Nozzle pin (0.573.6052) 1 x Abrasive powder 27 μm – 75 g (1.003.1235) 1 x Abrasive powder 50 μm – 75 g (1.003.1236)
£1,149.00