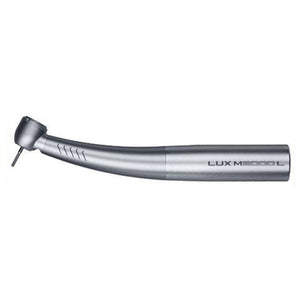 Kavo MASTERtorque LUX M9000L Turbine Handpiece - Optic
Regular price £845.00 Sale
The MASTERtorque LUX M9000 Turbine series has rapid stop for safety. The new Direct Stop Technology (DST) reduces the stopping time of KaVo's dental turbine MASTERtorque by approx. 60 % and stops in only one second. Best conditions for completely safe and relaxed work. Through its combination of 20 % more power, less weight and the innovative Direct Stop Safety Technology, KaVo's MASTERtorque is a real alternative to high-speed instruments.
All MASTER  series Kavo handpieces come with a free 2 year manufacturer warranty.
Features
Kavo MASTERtorque M9000L Fibre Optic Turbine
Push button chuck.
4 Hole spray -gives excellent visibility.
Compact head (H 13.1mm – Diameter 12.5mm).
Ceramic ball bearings.
Powerful – 23 watts
Very quiet – 57 dB
Direct Stop Technology:  Bur stops in 1 second.
Thermo-disinfector proof.
Fits Kavo Multiflex coupling. Also available to fit Sirona coupling.
2 Year warranty.
£845.00