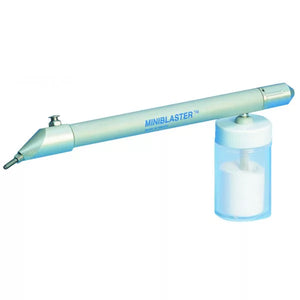 Deldent Mini Blaster
Regular price £229.00 Sale
Deldent Mini Blaster – Clinical Sandblaster
The Miniblaster™ is the worlds first fully autoclavable hand held clinical sandblaster,
with index finger control valve, providing maximum ergonomic control for both right and left handed operators. The unique ratchet system simplifies directional nozzle rotation.
An in-line pressure stopcock with built in quick disconnect and installation kit are included allowing simple installation to air supply without a service engineer. This unique product has been acclaimed worldwide for its no-nonsense ability
to get the job done quickly and efficiently year after year.
A full range of hook-up options are available as are a range of special adaptors that enable the Miniblaster™ to be connected to and activated through the standard dental turbine hose.
Ideally the Sandblaster is connected directly to the compressor at 80-120 PSI, however it can simply be connected to the high speed or low speed tubing just like a handpiece using one of the special adaptors available and can then be operated by the
standard foot control of the dental unit.
£229.00